Construction Jobs, Careers, Apprenticeships
Construction Careers
Construction careers involve building projects revolving around the construction of buildings and homes, or infrastructure and utility engineering projects like highways, bridges, and dams.  This can include design, preparation of sites for building, and new construction, as well as addition, alterations, maintenance and repair of current structures.
Construction offers a wide range of positions, some of which require little to no prior education or skill, and some of which require a high skilled trade level. This is another career area where apprenticeships can be a great way to gain experience and learn the trade while working.
Jobs in this field include:
Construction manager
Construction laborer
Carpenter
Electrician
Equipment operator
Building inspector
Heating and air conditioning installers
Home improvement contractors
Architectural restoration and historic preservation
Other disciplines within the construction field include:
Riggers/hoisting engineers
Concrete workers and finishers
Building demolition
Heavy equipment operations
Iron and rebar workers
Waterproofing technicians
Millwork/finish carpenters
Interior painters and wallpaper hangers
Exterior painters
Roofers
Home inspectors
Steamfitters and pipefitters
Drywall and ceiling installers
Window and door installers
Sheet metal workers
Scaffolding contractors
Flooring installers
Iron workers
Hazardous material removal workers
Jobs and Experiences
There are many ways to learn about and get experience in construction jobs, starting in high school and moving forward.
Take courses in shop, carpentry, computer aided design, technical drawing and math.
Work part-time with a contractor or construction company to gain hands-on experience
Get an apprenticeship to learn with a master craftsperson
Learn the business as a salesperson, customer service representative or administrative assistant
Interview people who work in the field to learn about the best ways to train, day to day requirements of the job, and how they got to the position they currently hold.
Especially with carpentry, work on independent projects to improve your craftsmanship and learn tools of the trade.
Overview of construction positions:
Construction Management
Construction management involves the oversight of a construction project from beginning to end, including planning, materials, budgets, timeline, insuring progress on each project and being ultimately responsible for successful on-time, on-budget completion.
Construction managers represent the owner's interests in a building project, working with all parties involved, with the intent to manage costs, mitigate problems and managing risk.  Construction managers have training in working with each of the parties involved:  architects, engineers, clients and general contractors.
Job titles along this career path include:
Construction supervisor
Construction manager
Site supervisor
Cost estimator
Project manager
Project engineer
Employers prefer construction managers with a college degree—a bachelor's in civil engineering, construction science, construction management or construction technology.  Master's degrees also exist in these disciplines. Often construction managers start as construction supervisors then working their way up with a lot of on the job training, and work-related experience.
Types of companies who employ construction managers:
Large multi-location corporations
Real estate developers
Federal government
Independent contracting companies
Construction laborer
Construction laborers are the "boots on the ground" people who do the physical work of construction projects. This includes preparation of the site, building, loading and loading materials, operating machinery, assisting skilled tradesmen and cleaning up the site at the end of the project.
Carpenter
A carpenter builds, assembles, installs and repairs fixtures and structures, working with materials like wood (their primary medium), fiberglass, drywall, and plastic. This is generally a physically demanding job, and can have long hours in extreme weather conditions, depending on the type of carpentry you do.
You must have a high school diploma or GED to become a carpenter, and it helps to have a driver's license. Vocational training programs (ex. wood shop) exist in some secondary schools. Two-year technical school programs will help develop a foundational knowledge of the trade—reading blueprints, preparing estimates, understanding building codes and safety regulations.
Apprenticeships often run about 3-4 years in this vocation, and require an employer sponsor, qualifying aptitude test score and approval from a committee of master tradespeople. The ultimate education goal in carpentry is to become a master carpenter, which allows you to earn more money, hold supervisory positions, and can make it easier to own your own company (if you aren't one, you have to have one on staff).
Electrician
Electricians install electrical wiring and lighting, rewire equipment and fixtures, troubleshoot electrical problems, and conduct electrical safety inspections. Education (after your high school diploma) is gained on-the-job, often through an apprenticeship program of 4-5 years.  Apprenticeships require 144 hours/year of technical training (blueprints, code requirements and safety procedures, math and electrical theory), and 2,000 hours of practical experience.
Building inspector
Building inspectors ensure that work done on a construction project meets the standards set out in building codes and ordnances, zoning regulations and contracts. These positions usually require at least a high school diploma and construction industry experience.  Some states require licensing.
Construction inspector
Building inspector
Electrical inspector
Home inspector
Coating inspector
Public works inspector
Heating and air conditioning (HVAC) installers
HVAC installers put in new heating, ventilation and cooling equipment, as well as corresponding ductwork, refrigerant lines and components and wiring.  A high school diploma is required, but HAVC/R training and multiple certifications exist which can make you more marketable.
Commercial installer
Residential service tech
Home improvement contractors
Home improvement contractors oversee the conceptualization and  logistics of home improvement construction projects, from turning client vision into a plan to budgets and timeline. As a management position, these jobs usually require a bachelor's degree in Business administration, Construction engineering, Construction management or Operations management.
Architectural restoration and historic preservation
If you have an interest in historic buildings, architecture and conservation, architectural restoration and historic preservation might be a career to consider. Architectural restoration specializes in the conservation of historic buildings and other structures; renovation or restoration can help preserve them for the future.  Typical requirements ask for a master's degree in conservation architecture or historic preservation with focus in building renovation and restoration, design and architecture.
Restoration architect
Historic preservationist
Certifications and Licensing
There are no nationally recognized required licensing certifications for construction management. However, they may indicate a level of experience or expertise to a future employer, which could give you a boost in the hiring process. Leading certifications in construction management are:
Certified Construction Manager (CCM)-- recognizes professionals who have chosen a career in construction management and voluntarily met the prescribed criteria of the construction management certification program with regards to formal education, field experience and demonstrated capability and understanding of the CMAA body of knowledge.
American Institute of Constructors Certificates(AIC):

Associate Constructor (AC)-- the first level of certification in the Constructor Certification Program.  This level of certification is ideal of recent graduates of 4-Year Construction Management Programs or those transitioning into construction management from other industries.
Certified Professional Constructor (CPC) - the highest level of certification in the Constructor Certification Program.  This level of certification is ideal for individuals with established constructors who have several years of project oversight experience and seek to take their career to the next level.
Both require a four-year degree and four years of direct experience, or 8 years of experience with no bachelor's.
Journeyman's license—indicative of completion of an apprenticeship qualification, this authorizes you to work as a master tradesperson in carpentry and plumbing.
Electrician's license—most US states require electricians to be licensed, in addition to continuing education units (CEUs) required on an ongoing basis.
International Code Council-- offers 37 different certifications for certified code safety professionals.
Technology used in construction:
CAD software:  AutoCAD, Revit, Computer aided design and drafting software
Project management software:  HeavyBid, HeavyJob, SharePoint, Primavera Enterprise Project
Photo imaging software: Adobe Creative Cloud, Drone image capturing, Visio,  SketchUp Pro
Database software: ISS Construction Manager, Yardi
_____
Article - Construction Careers and Jobs Outlook
Perhaps you enjoy working with your hands on projects that will be around for years to come. Or maybe you're looking for a job that pays well and has a promising future. These are among the many reasons to consider a career in construction.
In June 2018, there were 263,000 job openings in the construction industry, according to preliminary estimates from the U.S. Bureau of Labor Statistics (BLS). Through 2026, BLS projects faster-than-average employment growth in the industry. What's more, its median annual wage of $45,820 in 2017 surpassed the $37,690 median wage for all industries.
And although some occupations in the construction industry typically require a college degree, you can enter many others with a high school diploma or less education. Read on to learn about construction careers.
Rebounding employment
Preliminary BLS data show that there were 7.2 million construction jobs in July 2018. That marks the highest employment level for the construction industry in a decade.
Leading into and through the Great Recession, the industry experienced declines in employment. In recent years, however, employment has trended upward. (See chart 1.)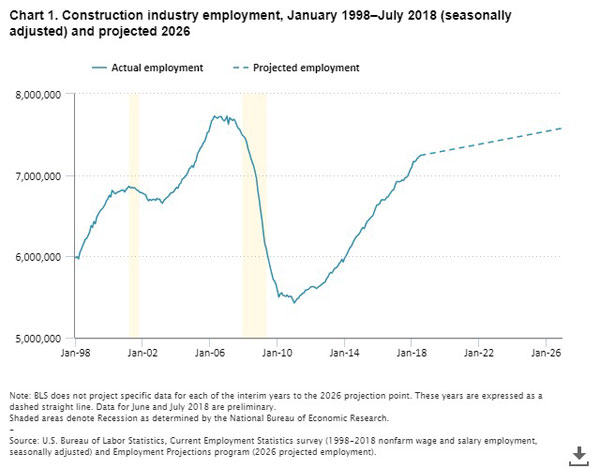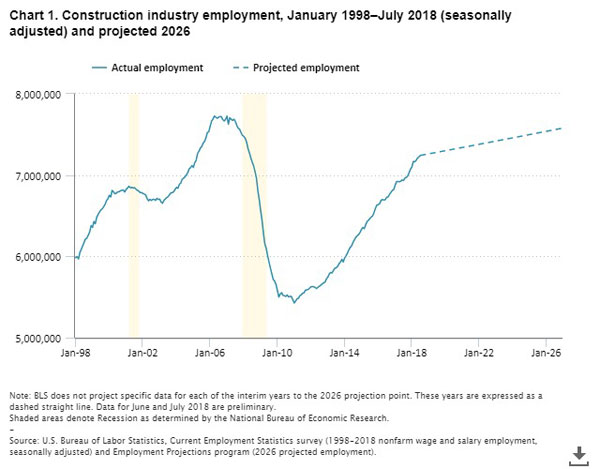 BLS expects continued expansion of employment in the construction industry, with more than 7.5 million jobs projected by 2026 as population growth spurs demand for new buildings and infrastructure.
Occupations by subsector
The construction industry comprises three subsectors: specialty trade contractors, construction of buildings, and heavy and civil engineering construction. Employment in all of these subsectors is projected to grow over the 2016–26 decade, with more than half (485,600) of the new jobs overall expected in specialty trade contractors. Construction of buildings and heavy and civil engineering construction are projected to add 170,300 and 208,800 jobs, respectively. Wages vary by occupation.
The tables in this section show selected occupations in each of the construction subsectors. There is overlap among the occupations in each, so inclusion in one table doesn't mean exclusion from another. For example, construction laborers work in all three subsectors.
Specialty trade contractors
Specialty trade contractors is the largest construction subsector, with employment projected to reach nearly 4.8 million by 2026. Workers in this subsector usually focus on a particular activity, such as plumbing or roofing. (See table 1.)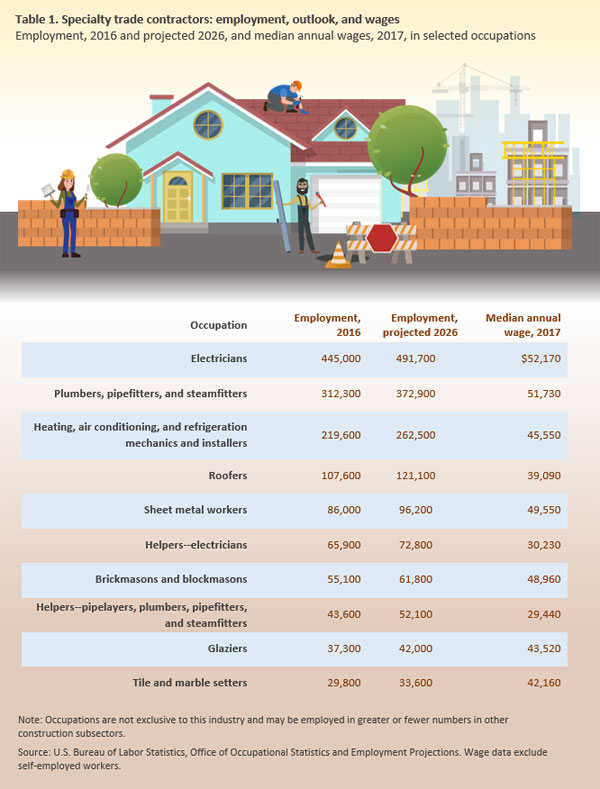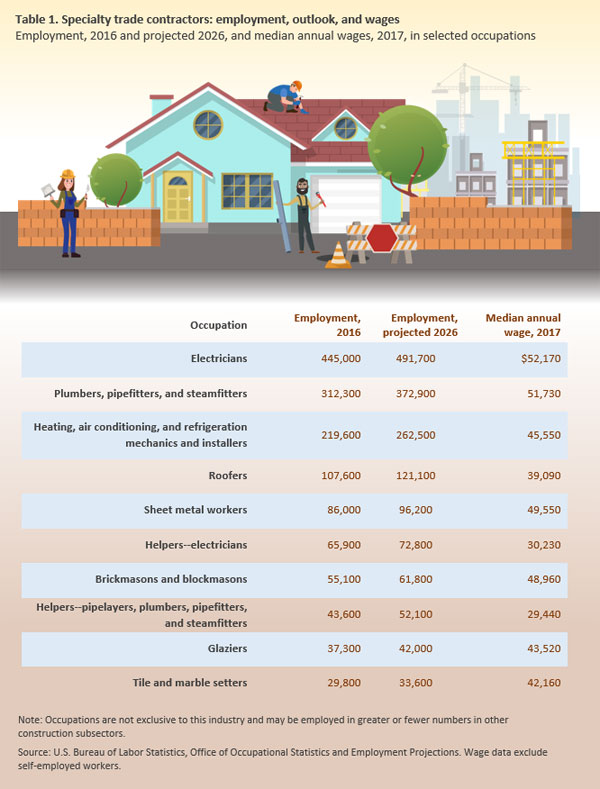 BLS projects rapid employment growth in specialty trade contractors for all of the occupations in the table. With nearly 20-percent increases in this subsector, employment of heating, air conditioning, and refrigeration mechanics and installers and helpers of pipe layers, plumbers, pipefitters, and steamfitters is projected to grow the fastest of these occupations. Electricians had the highest median annual wage, $52,170, in this subsector in 2017.
Construction of buildings
Employment in construction of buildings is projected to be about 1.7 million in 2026. This subsector includes general contractors and other establishments that have primary responsibility for an entire building or remodeling project. (See table 2.)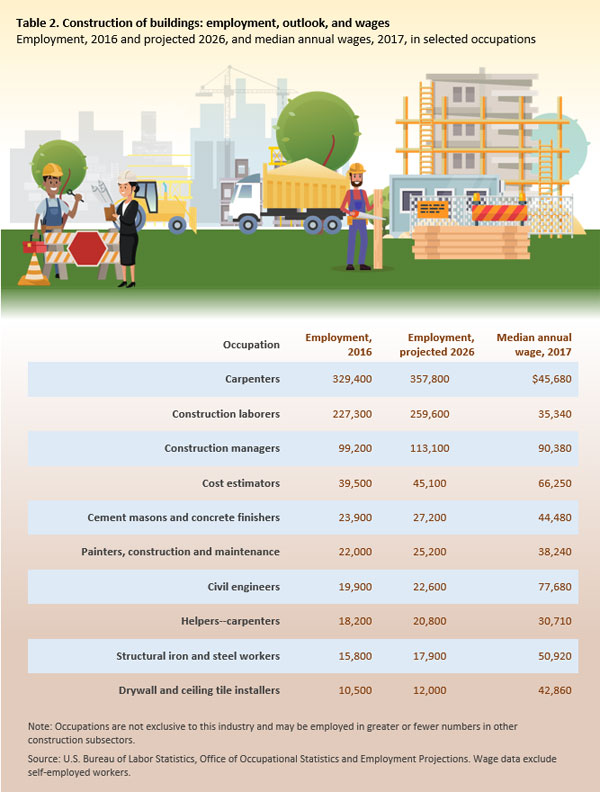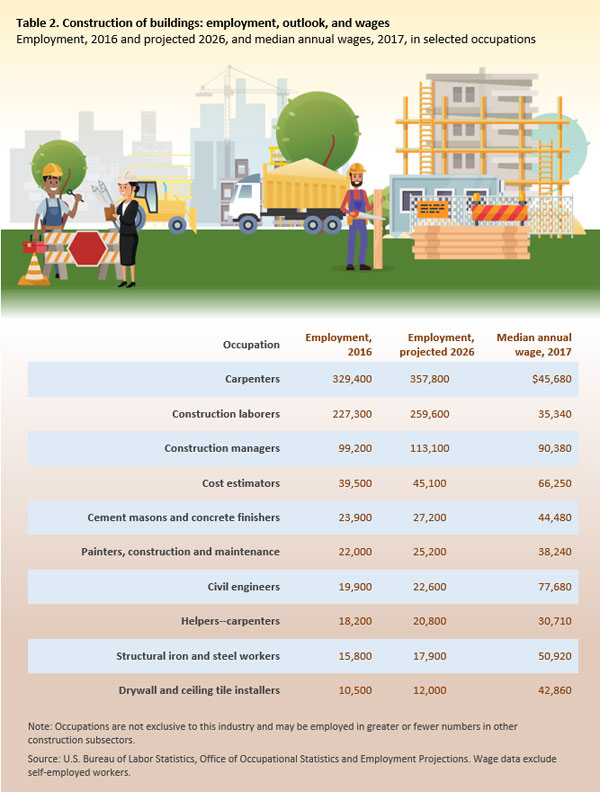 All but one of the occupations in table 2 (carpenters) are projected to have faster-than-average employment growth in this subsector from 2016 to 2026. Employment in each of the other occupations in the table is projected to grow by about 14 percent in this subsector. Construction managers had the highest pay of the occupations in table 2, with a median annual wage of $90,380 in construction of buildings in 2017.
Heavy and civil engineering construction
Heavy and civil engineering construction focuses on highway, utility, and other infrastructure projects; employment in this subsector is projected to be almost 1.2 million in 2026. Table 3 shows some of the occupations involved in this work.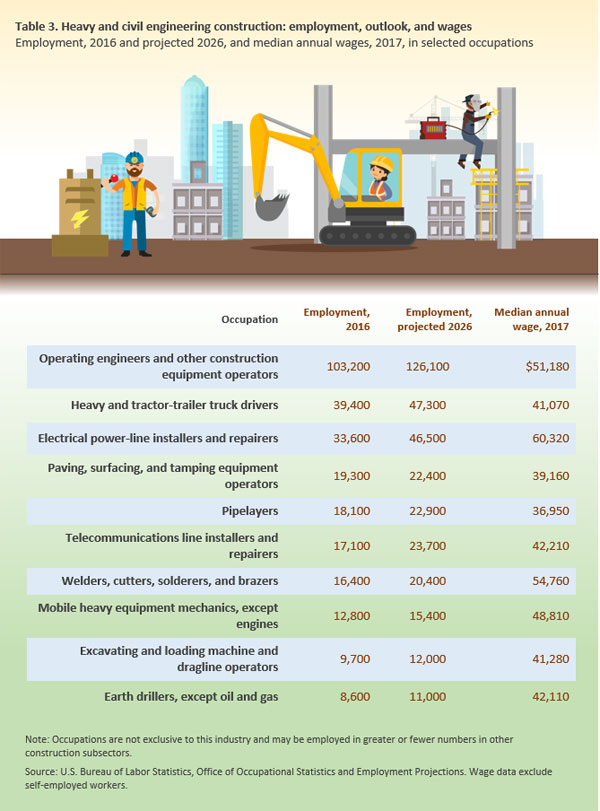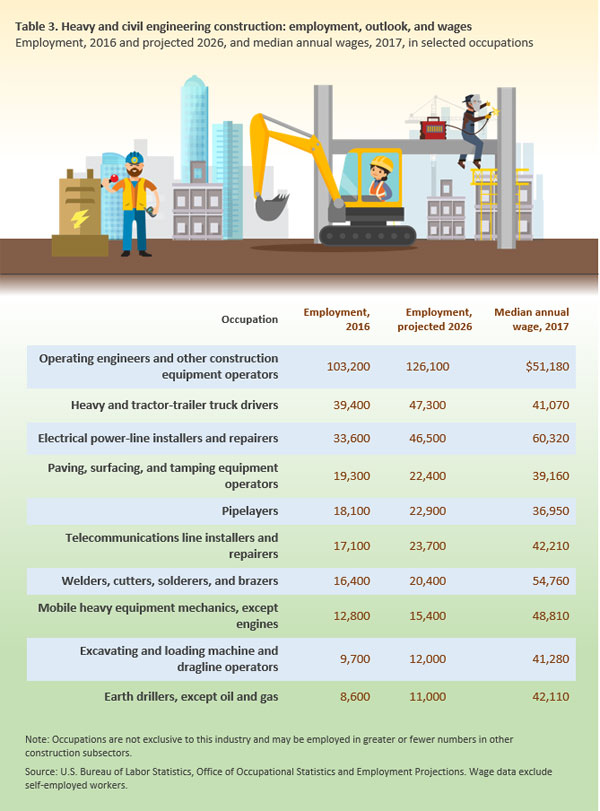 BLS projects much-faster-than-average employment growth in heavy and civil engineering construction over the 2016−26 decade for the occupations shown in table 3. Employment growth of electrical power-line installers and repairers is expected to be the fastest, with a projected increase of nearly 39 percent in heavy and civil engineering construction. These installers and repairers also had the highest median annual wage, $60,320, of occupations shown in the table.
Paving the way to a career
Most construction careers require specific skills and aptitudes, such as dexterity, physical stamina, and problem-solving ability. Construction workers learn many of the skills they need on the job. In fact, all but one of the occupations shown in the tables typically require on-the-job training for workers to become competent.
Apprenticeships are common in some occupations, such as sheet metal workers and plumbers. In other occupations, new workers may get informal on-the-job training, including instruction from those who have experience.
Whether you have little formal education or you aspire to earn a college degree, you can choose from a number of occupations in construction. For example, occupations such as roofers and carpenters' helpers typically require no formal educational credential at the entry level. And you can typically enter more than half of the occupations shown in the tables with a high school diploma or its equivalent, such as a GED.
You typically need a certificate or other postsecondary non-degree award to enter the occupations of heavy and tractor trailer truck drivers and heating, air conditioning, and refrigeration mechanics and installers. The three highest paying occupations in the tables—construction managers, cost estimators, and civil engineers—typically require a bachelor's degree for entry.
_____